Conductix-Wampfler Canada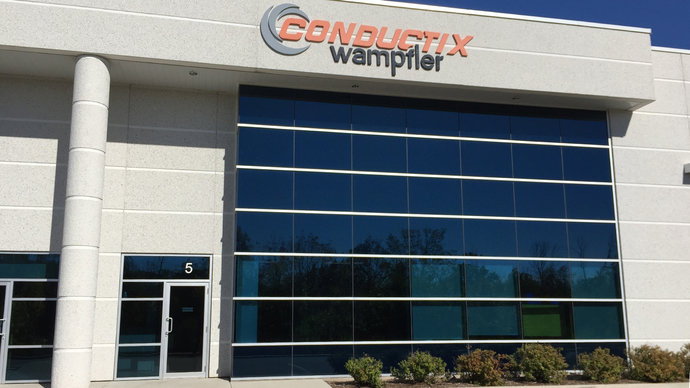 Conductix-Wampfler has operated in Canada since 1959. The first building, in Mississauga, Ontario, was under the "Insul-8 Corporation" brand name, where the company promoted the recently developed 8-Bar Conductor Bar Systems and later introduced the higher capacity Hevi-Bar. Shortly after that, the company added cable festoon products. In 1987, the branch moved to St. Jerome, Quebec, and co-located with sister company Delachaux/Railwel. This new location began assembling Cable reels and push-button pendants.
In 2008, with the merger of Conductix/Insul-8 and Wampfler AG, Conductix-Wampfler Canada began stocking German-made conductor rail lines and festoon products. The company implemented the SAP ERP system at the end of 2013, which enabled the Canadian operation to streamline procurement and material management. In May of 2014, after several decades of steady growth, Conductix-Wampfler Canada moved into a brand new facility in Mirabel, Quebec, just east of the Montreal International Airport. The new facility provided 13,000 sq ft of office and warehouse space, plus state-of-the-art conference and training rooms.
In 2018, the operation moved to its current location in Burlington, Ontario. The move put the facility closer to key customers and gave the Conductix-Wampfler Canada team even greater resources to offer superior service customers in the region, both now and for the future.
Mission and Commitments
COMMITMENT TO CORE VALUES
We understand that, as a company, we are only as good as the people we have. We expect our people to share common personal and professional values. The basic values of Honesty, Quality Dedication, Integrity, Promise Keeping, Caring/Fairness, Personal Mastery, Openness and Motivation, guide everything we do.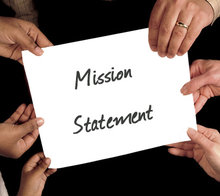 MISSION STATEMENT
The Mission of Conductix-Wampfler is to be the leading global provider of energy and data transmission solutions that keep our customers' vital business moving. We will conduct our business in a way that protects and promotes our core values, while establishing an organizational culture that creates innovation, growth, and a favorable return on our stakeholders' investments.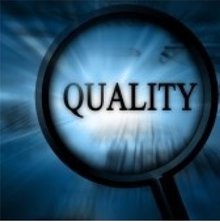 QUALITY COMMITMENT
Conductix-Wampfler implemented a Quality Improvement Program that focused on Zero Defect performance in all aspects of our business, and we continue to strive for Zero Defect performance each business day.
QUALITY POLICY
It is the policy of Conductix-Wampfler to cultivate an environment focused on continuous improvement in order to deliver products and services that meet our stakeholders' requirements.
Company History
The rich history of Conductix-Wampfler started at the turn of the 20th century and continues confidently into the 21st century. The once-separate companies now operate as part of the internationally recognized Delachaux Group.
Delachaux S.A. was founded in France in 1902 as a supplier of tram electrification and automotive components. It is now a major global supplier of rail welding systems, rail components, electrification systems, chromium and special metals, magnetic systems, lastic injection moldings, and fiber optic cable machinery.
Insul-8 Corporation
Insul-8 Corporation began in 1944 in San Carlos, California. Named after their new invention, "Insulated 8-Bar", the company was an important contributor to crane electrification safety. 8-Bar quickly became the industry standard. In 1958, Insul-8 introduced "Hevi-Bar" which was designed to electrify container cranes, large factory cranes, and transit systems. By the 1970s, Insul-8 had subsidiaries in the United Kingdom, Canada, and Australia. Insul-8 created the first stainless steel capped aluminum rail, which has been used for many well known installations, such as the Disney monorail, San Diego Zoo people mover, and the Las Vegas monorail. Insul-8 has produced over 30 million meters of conductor rail used all over the globe! In 1976, Insul-8 was acquired by the Delachaux Group.
Industrial Electric Reels
Industrial Electric Reels was founded in 1945 as a division of Industrial Electric Works - in Omaha, NE. IER had great success with their first product - the hand-rewind "Port-O-Reel" - and later expanded into other cable reeling equipment. IER held several patents for spring reel and slip ring designs and unique industrial machinery - including the first machine to make "wavy" potato chips! IER slip rings were adapted to other types of rotating machines and soon IER became a leading supplier of industrial slip rings. IER grew to  become a major supplier of motorized cable reeling systems to the marine, mining, aero-space, and general industrial markets. In 1975, IER was also acquired by the Delachaux Group. The company moved from downtown Omaha location to its present location at 10102 F Street, which now serves as the headquarters for Conductix-Wampfler USA. In 1987 Delachaux bought the French Cefilac  Company and began incorporating the rugged Cefilac magnetic coupler into motorized reels at their IER facility. In 1997, the brand name "Industrial Electric Reels" was consolidated with the Insul-8 name. In 2006, Delachaux's electrification companies worldwide were merged under a new, global name - CONDUCTIX.
Wampfler AG
In 2007, Delachaux more than doubled the size of the Conductix operations by acquiring Wampfler AG (Weil am Rhein, Germany). Wampfler was founded in a small Loerrach, Germany facility in 1959 initially making rubber crane bumpers. The newly formed company rapidly expanded into other crane components, such as cable festoons, conductor bar systems, and reels. By 1963, the company had moved to Weil am Rhein and grew to become the leading supplier of electrification systems in Germany. It expanded internationally in 1974 with the founding of Wampfler Inc USA in Florence, KY. By 1978 it developed the first motor-driven festoon systems and the company opened its first office in Asia. By the late 1990's Wampfler became the leading supplier of electrification systems to the world's container crane market. In 1996, the company acquired the rights to build a revolutionary new type of "contactless" power supply system: "IPT" (Inductive Power Transfer). IPT powers many famous amusement park rides and powers material handling systems in many modern factories.
Conductix-Wampfler Today
After Delachaux acquired Wampfler AG, and largely due to the reputation of the Wampfler brand name, the company's Conductix division was renamed "Conductix-Wampfler" - a move which launched "the new leader" in energy and data transmission systems. The Conductix-Wampfler Division is now the largest global producer of systems and  equipment for transferring energy and data for applications such as cranes and other material handling equipment, people movers,  light rail systems, amusement rides, and many types of automated machines. The recently united Conductix-Wampfler has one critical mission: To provide energy and data transmission systems that will keep your vital operations running 24/7/365. Our rugged, low-maintenance products have been proven over time in the most demanding industrial environments and are backed by a combined worldwide sales and service network unmatched in our industry.
Conductix-Wampfler – We Move Your Business!