Ports
Throughout recorded history, cargo ports have played a vital role in the development of economies and countries. The importing and exporting of many types of goods are handled by countless port facilities around the globe, from small river ports to specialized sea ports that handle bulk materials, break bulk, special cargo, Ro-Ro (roll-on/roll-off) or containers. Depending on the type of goods handled by a given port, dedicated material handling machines such as cranes, loaders, and  unloaders efficiently manage  logistics within the port's operations. Often operating 24 / 7 / 365, this equipment needs to be extremely reliable and able to operate in very harsh environments. Increasing global trade has driven ever increasing demands for faster, more reliable, and better performing port equipment components. Energy and data transmission systems play a crucial role in providing safe, reliable, and efficient port operations. Due to increasing requirements for "green" ports and environmental friendly handling facilities, operators will continue to convert combustion engines to electric drives. In addition, more and more ports are providing shore power for docked vessels to further reduce emissions.
Main power supply for a ship unloader
Application
Main power supply for a ship unloader

Operator
HYDRO Aluminium, Sunndalsøra, Norway

Customer
Alcan Engineering, Zurich (CH)

Product
High tension Motorized Cable Reel with optical fiber, Diameter 3,1 m
Winding length
65 m

Speed
12 m/min

Track length
130 m

Cable
NTSCGEWÖU 10kV 3x120 + 2x25 / 2 + 6LW
Enviroment
Port area / waterfront
Relevant Products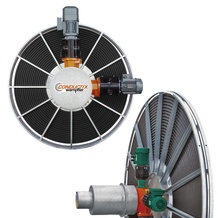 Motor Driven Reels
Heavy Load [HL] Series
Additional information
Modular assembly system - the cable reel can be upgraded after installation by adding drive units.
Magnetic Coupler Drive (MAG Drive) or Variable Frequency Drive (SMART Drive)
5 year or 15,000 hour operation before any maintenance is required - gearboxes are grease-lubricated from the factory.
Optimal corrosion protection to handle aggressive environments - flanges and reel drum are manufactured from hot dip galvanized steel or stainless steel.
Typical applications:
Ship-to-shore (STS) cranes
Rail mounted gantry (RMG) cranes
Ship unloaders
Stackers / reclaimers
Shipbuilding cranes
Product data
Specifications
Travel speed:
- AC motor with magnetic coupler (MAG drive): up to 100 m/min
- Variable frequency controlled (SMART Drive): up to 180 m/min
Winding length: 700 m max
OD of spool:
- Monospiral spool: 1,100 mm - 8,000 mm
- 3-2-3 spool: 1,100 mm - 8,000 mm
Gearbox:
- Type BNA: 1,100 Nm - 19,000 Nm
- Type X07: 1,100 Nm - 11,000 Nm
Slip ring assembly:
- Power low voltage max: 690 V - 1,600 A
- Power high voltage max: 24,000 V - 500 A
- Control max: 500 V - 25 A
- Data: fiber optic, mA
Temperature range: -40 °C - +60 °C
Downloads