Ports
Throughout recorded history, cargo ports have played a vital role in the development of economies and countries. The importing and exporting of many types of goods are handled by countless port facilities around the globe, from small river ports to specialized sea ports that handle bulk materials, break bulk, special cargo, Ro-Ro (roll-on/roll-off) or containers. Depending on the type of goods handled by a given port, dedicated material handling machines such as cranes, loaders, and  unloaders efficiently manage  logistics within the port's operations. Often operating 24 / 7 / 365, this equipment needs to be extremely reliable and able to operate in very harsh environments. Increasing global trade has driven ever increasing demands for faster, more reliable, and better performing port equipment components. Energy and data transmission systems play a crucial role in providing safe, reliable, and efficient port operations. Due to increasing requirements for "green" ports and environmental friendly handling facilities, operators will continue to convert combustion engines to electric drives. In addition, more and more ports are providing shore power for docked vessels to further reduce emissions.
Motorized festoon system for High Speed Container Cranes (ship to shore)
Application
Motorized festoon system for High Speed Container Cranes (ship to shore)

Operator
HHLA Hamburger Hafen- und Lagerhausgesellschaft; Burchardkai Hamburg (Germany)

Customer
Siemens, Bremen (Germany)
Product
Motorized Festoon System, program 0385 and program 0375

Travel distance
117 m

Travel speed
220 m/min
Specific deatures
Additional installation of an Energy Guiding technology for a crab


Relevant Products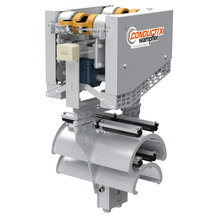 XL-Line 0380 / 0385 Series
Additional information
Motorized cable trolley for round cables with AC or DC technology. Depending on speed and load, it comes with a patented compact drive (Progr. 0380) or with a gear motor (Progr. 0385). The entire system consists of motorized cable trolleys, a frequency converter control for optimizing movement and cable trolleys from programs 0365 and 0375.
Main applications
High-speed STS-container cranes of all Panamax classes
Special overhead bridge cranes
Scrap and ladle cranes in steel mills
High-speed conveyor systems
Transport systems
The requirements of today's systems, especially in container handling, often exceed the physical limitations of conventional systems when it comes to speed, acceleration and cable package weight. The application of motorized cable trolleys in combination with non-motorized cable trolleys allows for controlled acceleration and deceleration. This synchronization with the consumer makes it possible to increase the travel speeds of the entire system enormously. In addition, wear and maintenance work are reduced considerably, increasing the availability of the complete facility and minimizing the overall costs.
Product data
Travel speed max. 1) [m/min]: 300 [984.25 ft/min]
Load capacity/trolley max. 1) [kg]: 800 [1763.7 lb]
Main rollers diameter [mm]: 125/160 [4.92" and 6.3"]
Ambient temperature [°C]: -30 ... +80 [-22° F to 176° F]
Applications: indoor / outdoor / sea climate
I-beam: parallel flange
1) depending on roller size/ roller material
Downloads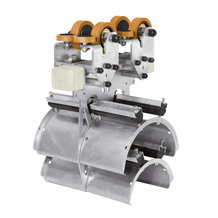 XL-Line 0375 Series
Additional information
Cable trolley with multi layer side-loading cable saddles for round cables. Suitable for maximum mechanical and dynamic loads including traversing operation and strong lateral forces. Suitable for short work cycles and high speeds – combinable with powered cable trolleys.
Main applications
STS-container cranes
Scrap and ladle cranes in steel mills
High-speed conveyor systems
Transport systems
Product data
Travel speed max.1) 2) [m/min]: 300 [984.25 ft/min]
Load capacity/trolley max.1) [kg]: 800 [1763.7 lb]
Main rollers diameter [mm]: 125/160 [4.92" and 6.3"]
Ambient temperature [°C]: -30 ... +50 [-22° F to 122° F]
Applications: indoor / outdoor / sea climate
I-beam: parallel flange
1) depending on roller size/ roller material 2) together with motorized trolleys
Downloads