Intralogistics
Intralogistics systems play an important role in the automated in-plant transport of materials in factories, distribution centers, parcel services, warehouses, airports, hospitals, and others. These systems increase efficiency, quality, sustainability, and traceability of material flow processes, while reducing waste and inventory buffers. Without them, modern high performance facilities could not function. Electrification components are needed for intralogistic equipment as  Automated Guided Vehicles ( AGV),  Electric Monorail Systems ( EMS), electric pallet conveyors, rail guided vehicles (RGV), transfer cars, and baggage handling systems, as well as sorters, automated storage and retrieval systems (AS/RS, stacker cranes) and shuttle systems.

Intralogistic systems must be available on demand. If part of the system goes down, processes before and after will stop and the entire facility could shut down. Also, any required maintenance must be done quickly and easily. Energy and  data transmission components must adapt to high performance systems, often with complex layouts and operating at high speeds and acceleration. At the same time, they must provide maximum energy efficiency at an acceptable cost. Some systems must meet special technical challenges, such as "clean room" and food processing environments, refrigerated storage, or impure production lines.
Conductix-Wampfler has extensive experience working with intralogistics system OEMs worldwide. From our large product portfolio, we can recommend the optimum solution for individual applications across many different industries without bias towards single technology. With our global presence and local support, we partner closely with OEMs and end-user customers for both small and large scale projects, striving for technical optimization with minimum complexity. Our continuous research & development efforts are geared towards new solutions and continuous improvements of products for this industry.


Inductive Power Transfer (IPT®) – powers systems such as  AGVs and baggage handling systems. New generations of  IPT with state-of-the-art features keep pace with our customers needs.

Conductor Rails – power  Electrified Monorail Systems ( EMS), Rail Guided Vehicles (RGV), and baggage handling systems. The 0832 Series " EcoClickLine" are ideal for  AS/RS stacker cranes. The recently introduced PEplus for  conductor rails works well for electric conveyors of all types, providing safety and simplicity.

Spring-Driven and  Motor-Driven Reels – manage  cables used to power  transfer cars and other moving equipment.

Energy Guiding Chains – manage  cables for all sorts of material handling equipment.

Rubber and Cellular Buffers – are well suited to absorbing energy from machine element impacts.


Overhead Monorail System with partial automated flow of materials via Circular Conveyor in a paint and drying plant
Application
Overhead Monorail System with partial automated flow of materials via Circular Conveyor in a paint and drying plant

Country
Germany

City
Schopfheim

Representative office
Conductix-Wampfler AG
Operator
Gardner Denver Schopfheim GmbH

Customer
Wieland Apparatebau GmbH

Product [s]
Overhead Monorail System with Circular Conveyor, Lift Station Turntable / Switch

Additional product description [s]
The switch does also have the function of a turntable

Technical requirement [s]
Carriage of pumps in a paint and drying plant. From final assembly up to packaging

System course
Coordinated on the working process

Track length [system]
Approx. 100 m

Trolley
Equipment carrier [40 pcs.]

Additional information [s]
The equipment carriers are carried through the drying plant. At the oven outlet they are moved by a Circular Conveyor to a buffer area. Very small installation dimension.


Relevant Products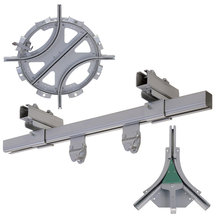 Manual - C-Rail Program
Additional information
For transport within a facility, Conductix-Wampfler's modular handling systems can provide customized transport solutions that ensure an optimum material flow. Various additional components, such as switching systems and curves, allow for the creation of complex tracks. The modular nature of the system and its simple assembly make it possible to plan and install a manual suspension track for many different applications.
Product data
Manual suspension tracks offer the following benefits:
Low investment costs
Reduced internal transport time
Reduced handling times
Increased productivity
Easier working conditions for employees
Targeted material flow
Product-based design
Easy expansion of the system at any time
Individual construction with custom set-ups
Flexible adjustment for changes in production requirements
Simple planning with a clearly laid out modular system
Manual suspension track components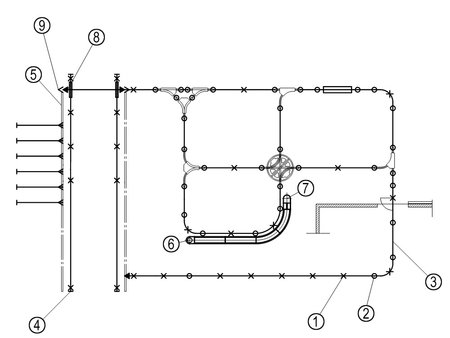 Rail carriers
Rail connectors
Track rails [fixed length of C-rails: 6m], include cut-off in calculations
End stop with a safety screw
Safety guides for keeping the transported object in place
Drag chain conveyor - drive station
Drag chain conveyor - tensioner
Interlock mounted on the crane bridge
Arrester mounted on the spurs
Downloads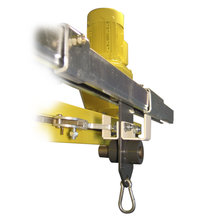 Semiautomatic - Circular Conveyor
Additional information
The circular conveyor is a functional and high quality ceiling transport system. This system is the most cost-efficient solution for all locations that require high volume material transport, whether continuous or in cycles.
Circular conveyors are characterized by their low weight and quiet operation. Easily accessible drive stations provide trouble-free maintenance. The modular system also allows the chains, rails and load on the transport system to be adjusted to fit many different facility requirements. Rerouting or expansion is possible at any time.
The main structural feature of the system is the polyamide slide profile, which snaps into a special, cold-drawn profile tube.
Because of this, the smooth chain only needs to be lubricated in vertical curves that may be included in the track layout. The possible applications of the circular conveyor are as variable as the goods that can be transported. This includes light containers and even bulky goods.
Product data
All components of the handling system are part of a comprehensive modular system. Assembly can be performed on-site by Conductix-Wampfler assembly technicians or by customer technicians.
In curved arcs, the chain segments are carried over the rollers of a constantly running roller chain on a hardened curve rail.
Vertical curved arcs can be made with a radius of 900 / 1100 mm and up to 45°. The round steel chain is carried in high molecular weight polyethylene profiles. There are various drive options. Based on the system layout, we use drag chain drives (caterpillar drives) with vertical, horizontal or 180° deflection drives directly over a chain wheel. Sliding hubs are standard.
The chain can be tensioned using 180° guide rollers or using 2 curved arcs of 90° each.
System structure with diversion drive
Drive station
Chain
Guide rail
Tensioner station
C-rails
Suspension
Transport cart
Downloads