Environmental Technology
The world faces significant environmental threats, and the challenges will be even more pressing in the future. With a growing population, urbanization, and the effects of global warming, the sustainable handling of the earth's limited resources will become even more critical. Environmental waste handling technologies will continue to play an important role in addressing these challenges. Water treatment equipment such as  wastewater clarifiers, filtration systems, and  solar sludge drying systems require very rugged energy and data transmission systems. Most of these operate outside and many are situated in corrosive and hazardous locations. Composting plants, which produce biogas that can replace fossil fuels, need electric power for their moving machine elements. These facilities also provide reclaimed compost that can be reused in the agriculture. As more and more countries put a higher priority on the need to preserve the environment, investments in environmental technologies will increase. Conductix-Wampfler high-performance products will support this trend all along the way.
The environmental industry has come to count on Conductix-Wampfler energy and  data transmission systems to provide reliable power and control delivery. With over 30 years experience in environmental applications, numerous systems in operation around the world, and many industry references, we are your preferred and reliable partner. Special versions of our high quality products resist harsh conditions and aggressive atmosphere and provide long life time with low maintenance costs.


Motor-Driven Cable Reels – can be employed to manage power and control  cables for longitudinal clarifiers
Spring-Driven Cable Reels – can be used to manage shorter power and control  cables for longitudinal clarifiers and are in use to power  solar sludge drying systems (along with  festoon systems and conductor rails)
Festoon Systems – provide management for  cables that power longitudinal clarifiers,  sludge drying equipment, and other moving machinery. ATEX certified  festoon systems are available for hazardous, explosion-proof locations. Ideal for wastewater systems and composting plants are stainless steel systems.
Slip Ring Assemblies – Transfer power and control signals to the rotating parts of circular clarifiers. ATEX certified  slip rings are available for hazardous, explosion-proof locations.
Conductor Rails – can be applied to power either longitudinal clarifiers or curved into  slip rings for circular clarifiers.
Industrial Waste water treatment
Application
Industrial Waste water treatment

Customer
Buderus Guß, Wetzlar, Germany

Installation
Circular scraper bridge Ø 14m. Energy supply of the bridge by revolving Conductor Rail

Product
Conductor rail 0812, Aluminium with Inox, 200A, 3 poles + PE

Specific features
Special current collectors


Relevant Products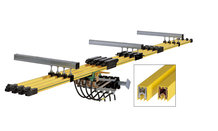 Single PowerLine 0812
Additional information
Single pole conductor rail preferably for straight tracks.
Special features
Available with different rail materials, suitable for most industrial environments
High safety level due to integrated finger-safe design
Easy and exact mountig with multiple hanger clamps for 3, 4 and 5 poles
Unlimited number of poles, designed for complex systems
On-site bending with optional bending device for curves possible
Main applications
EOT cranes
People Movers
Special purpose equipment
Product data
Standard application data
Nominal Current (at 100% duty cycle) [A]: 25 | 200 | 250 | 320 | 400
Voltage Grade [V]: 690 (hand safe array 500 V)
Rail Length [mm]: 4.000 [13.1 ft]
External Dimensions (Pole) [mm]: 18,0 x 26,0 [0.71" x 1.02"]
Operating Conditions: for indoor and weather-protected outdoor applications
Track Configuration: straight / curved elements available
Downloads