Conductix-Wampfler Canada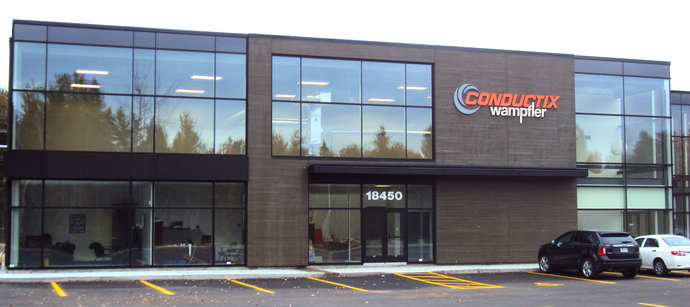 Conductix-Wampfler has served our Canadian customers from a facility in Canada since 1958.  The first building was in Mississauga, Ontario under the "Insul-8 Corporation" brand name.  The company quickly began promoting the recently developed 8-Bar conductor bar system and later introduced the higher capacity Hevi-Bar systems and cable festoon products.  In 1987, the branch moved to St. Jerome, Quebec where it was co-located with sister company Delachaux/Railwel.  Cable reels and push button pendants were added and assembled in this location as well.
In 2008, with the merger of Conductix/Insul-8 and Wampfler AG, Conductix-Wampfler Canada began stocking additional conductor rail lines and festoon products made in Germany.
The company implemented the SAP ERP system at the end of 2013, following successful SAP implementations in Germany and the USA.  Being on the same ERP platform as the rest of the group has enabled the Canadian operation to streamline procurement and material management.
In May of 2014, after several decades of steady growth, Conductix-Wampfler Canada moved into a brand new facility in Mirabel, Quebec, just east of the Montreal International Airport.  The new facility offers 13,000 sq ft of office and warehouse space, plus state-of-the art conference and training rooms.
The new facility will give the Conductix-Wampfler Canada team even greater resources to offer superior service customers in the region, both now and in the future.